Is it true that AD Scientific Index 2022 stated that I was indexed as the World Top 100 Scientist in History, Philosophy, Theology in the world from Indonesia since 2022 and has continued for 2023? Yulizal Yunus's question was conveyed to www.bandasapuluah.com. If true, I thank for AD Scientific Index. Unwittingly, this must have been a surprise gift since 2022 for me, who has been writing for newspapers since 1976. Until now, I continue to write for various media, research at various institutions, write and publish books on literature, history and culture. generally.
From various references it is stated that the AD Scientific Index 2022: World Top 100 History, Philosophy, Theology Scientists in Indonesia 2022. The ranking of "Top 100" scientists is based on total h-index scores. Top 100 scientists can be ranked globally or specific to the following regions including Africa, Asia, Europe, North America, North America, Oceania, Arab League, EECA, BRICS, Latin America, and COMESA based on total h-index scores without any breakdown by subject areas.
Top 100 rankings in the world, in a continent, or a region include standardized subjects areas of Agriculture & Forestry, Arts, Design and Architecture, Business & Management, Economics & Econometrics, Education, Engineering & Technology, History, Philosophy, Theology, Law/Law and Legal Studies, Medical and Health Sciences, Natural Sciences, and Social Sciences.
According to Total H. BETA VERSION. Subject field ranking in world, region, country and university is beta version since subject field "others" (374,506 scientists profile whose branch cannot be determined, not yet edited or determined) is excluded, so the ranking will change as the others fields are edited. Please note that. Subjects indicated as " * others " will not be included in the ranking by regions and subjects. Therefore, you may wish to specify your subject and branch and contribute in order to standardize your performance. Determining the subjects/departments, to which scientific fields would belong, may seem easy in some branches and in a variety of countries.
However, it may create considerable confusion in some other countries, regions, and schools. We (AD Scientific Index) would like to emphasize that the following fields including Engineering, Natural and Environmental Sciences, Biology, Biochemistry, Material Science, Biotechnology, Chemistry, and Social Sciences may exist in quite variable spectrums in different countries. Therefore, we would like to stress that the standardization of subjects and branches has not been easy.
To perform standardizations, we (AD Scientific Index) accepted the official names of the institutions and academic branches as accurate in the way that they were specified on the university website. We have developed this strategy in order to standardize this complex situation at least partially. Furthermore, we started a procedure to add an asterisk as "*" at the end of the names of the authors when a scientific paper of interest included many authors such as CERN, ATLAS, ALICE, CMS, Statistical Data, Guideline, Updates etc. scientific papers. We think that new criteria will be defined to be implemented for such studies. Until further criteria are described, we marked such studies with a "*" sign. Table.
Yulizal Yunus from UIN Imam Bonjol, has been indexed by the 2022 AD Scientific Index, as the World's Top 100, who has written extensively in the fields of History, Philosophy, Theology, and recorded it at number 50 in 2022 and 44th in 2023.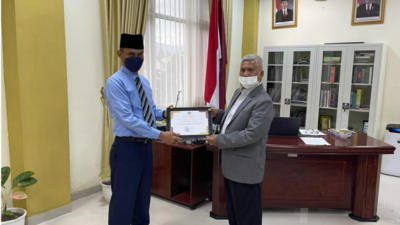 Responding to the publication of the AD Scientific Index, many congratulations from friends. Yulizal Yunus said,I was confused, there was no wind and no rain, suddenly there was this surprise.
Among them Dr. Yasrul Huda Deputy Chancellor I UIN Imam Bonjol congratulated. Also Vice Rector III Prof. Dr. Welhendri Azwar. Followed by the awarding and awarding of awards including a certificate by the Dean of the Faculty of Adab and Humanities UIN Imam Bonjol, Prof. Dr. Nelmawarni, S.Ag. M. Hum. The award certificate from the Dean was handed over by Deputy Chancellor I UIN Imam Bonjol Dr. Yasrul Huda.
Yasrul said, congratulations and thank you Bang Yulizal Yunus. Indexed in the ranking of 50 world scientists from the world ranking of the Top 100 History, Philisophy, Theology and Scientist 2022 in Indonesia. The name of UIN Imam Bonjol was also brought to the ranking.
I wasn't sure at first. However, after congratulating the leadership of UIN Imam Bonjol, I salute you, it's great that AD Scientific Index 2022 can track world writers. I thank AD Scientific Index and all who congratulated me.
Then I realized, that I write only to share experiences, thoughts and feelings. Only that.
Why do I write? Why am I writing? I write because I want to be honest about what I think and be honest about how I feel.
People who honestly record what they think, can definitely write scientifically. Who is dishonest writes what he thinks he cannot scientifically write. Especially people who have no thoughts at all.
People who honestly record their feelings, can definitely write poetry. Who is dishonest writes what he feels cannot write poetry. Especially people who have no feelings at all.
I feel this life that everything is going well. I feel this when I can come to terms with the situation at hand. How beautiful it is when we can make peace with the situation.
When we can come to terms with a situation, it usually inspires us to write. Because of a sense of peace with circumstances, we are not hurt by bad circumstances, in fact we will be happier with happy circumstances.
If we hold grudges with painful circumstances, we will be prevented from seeing real social reality. On the other hand, if we don't hold grudges with painful circumstances, we can enter into those painful states to see real social reality. We have the opportunity to get the right information, why there is a painful situation, and how we behave, in which position we can stand. Information like this is very valuable for us to write about.
This attitude is why I read, research, write and publish articles and books. Once again I say, I will continue to write and write. God willing, Insya Allah!